National Animal Care and Control Association Partners with Safe Capture
By Jerrica Owen, NACA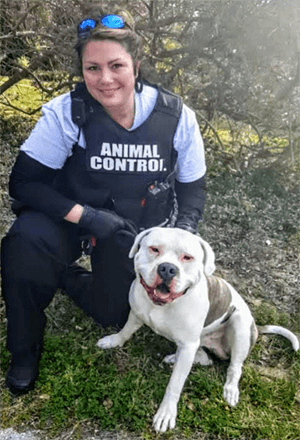 The National Animal Care and Control Association is proud to partner with the San Diego Zoo Wildlife Alliance Academy for chemical immobilization training. The National Animal Care and Control Association (NACA) was formed in 1978 for the express purpose of assisting its members to perform their duties in a professional manner. We believe only carefully selected and properly trained animal control personnel can correct community problems resulting from irresponsible animal ownership. NACA's purpose is to preserve the human/animal bond by insisting on responsible animal ownership. In addition, NACA is committed to setting the standard of professionalism in animal welfare and public safety through training, networking, and advocacy.
By partnering with the SDZWA Academy, we are achieving our mission by supporting animal care and control officers in the field with the training necessary to safely perform their job. The core work of an animal control officer is deeply rooted in community engagement, public safety, and the welfare of non-human animals. Historically, animal control officers were on the front line of protecting communities and addressing public health concerns, such as preventing the spread of the rabies virus. Their early role has now been dramatically expanded to include providing community support and outreach, investigating animal cruelty and neglect, and saving animals who are in immediate danger. Additionally, they work alongside other first responders such as law enforcement officers, EMTs, and firefighters, on a regular basis. Given these highly technical duties, animal care and control officers are continuously working to acquire training on the latest best practices in the industry.
The chemical immobilization training offered through the San Diego Zoo Wildlife Alliance Academy provides animal care and control officers with access to online and in-person instruction. This nationally recognized training ensures that our officers are using the most up-to-date, safe, and humane methods of chemical immobilization. This training covers a myriad of topics surrounding the immobilization of animals, including situational evaluation, proper equipment, pharmacology, post-capture care and anesthetic monitoring, and human safety. NACA supports chemical immobilization as a last resort, and only for use by those who are properly trained, to ensure officer safety and the safety of both the animal and the public. Animal care and control officers are on the front lines and are very often in the public spotlight. Ensuring that they act in the most responsible and humane manner is vital for public safety, and the health of people and pets. This training provides the skills necessary to support their success in the field.
NACA envisions a world in which all animal care and control professionals are respected as essential public servants and receive consistent support, resources, and training. Through our partnerships, we are elevating the role of the animal care and control professional to be better equipped to serve the people, animals, and communities in which they serve.
For more information, please visit the NACA website.

Jerrica Owen is director of partnerships and programs at the National Animal Care and Control Association.