About San Diego Zoo Wildlife Alliance Academy
San Diego Zoo Wildlife Alliance Academy is a powerful online learning platform that harnesses the expertise of San Diego Zoo Wildlife Alliance and its partners to offer courses that meet the specific needs of individuals in the zoological profession. Using compelling, relevant content, the Academy immerses learners in the subject matter, presents challenging and thought-provoking material, and guides learners in a creative and engaging manner as they build professional skills.
The Academy makes learning available anytime, from anywhere, in an effort to reduce time, travel, and other barriers that can restrict access. Individuals can learn at their own pace, test their skills, gauge their progress, save their learning history, and review course materials as often as they like. Learners will be actively engaged in their own professional development, in an environment that incorporates cutting-edge technologies, interactive experiences, and connections with both instructors and peers.
Subject-matter experts from top institutions, including San Diego Zoo Wildlife Alliance, Birmingham Zoo, Lowry Park Zoo, National Zoo, Reid Park Zoo, and Point Defiance Zoo and Aquarium, have joined together to create the wide variety of courses offered within the Academy, from Animal Care, Education, and Volunteer Training to Human Resources, Horticulture, and Operations, plus more. By offering the highest-quality learning products, the Academy will help learners gain knowledge and confidence as they expand their professional skills.
What Makes San Diego Zoo Wildlife Alliance eLearning Unique? The Four E's
Expertise: Each elearning course is written by experts with more than 20 years of experience in the field.
Excellence: A panel of subject-area specialists reviews the content of each course to ensure accuracy and best-of-field practices.
Engagement: Students can ask follow-up questions of experts through channels such as email, chat sessions, and/or online office hours. We also facilitate peer-to-peer learning through a specially designed social networking system.
Evolution: Learners can join certificate programs and gain college credit, which helps demonstrate that they have acquired expertise in specific content areas. Learners can increase their knowledge by participating in a whole range of learning opportunities, thus widening their knowledge of the zoological profession.
Efficacy Study Finds High Value to Keepers for Animal Care Courses
Course topics were selected for their broad applicability to zoos, parks, and aquariums. This pilot involved the first four animal care courses. Participant responses confirmed the relevance of these topics. When asked to rate the value of each course for a new keeper, the following results were recorded: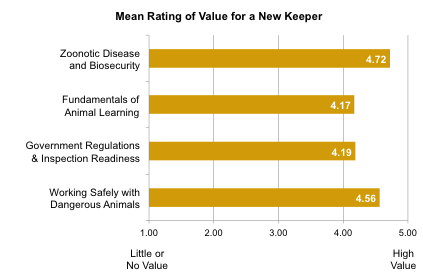 Read the full study results here