AAZK and the Academy: Working Toward a Common Goal
By Bethany Bingham, Director of Professional
Development & Conference Management, AAZK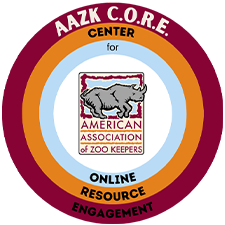 The American Association of Zoo Keepers (AAZK) was founded in 1967 by seven wildlife care specialists from the San Diego Zoo and the Los Angeles Zoo. Today, AAZK membership stands at 2,200, with nearly 1,400 members in the Professional category reflecting full-time animal care staff. AAZK also offers membership for part-time animal care staff and volunteers, international wildlife care specialists, students, and organizations.
The first AAZK chapter was formed in 1989, and currently there are 120 chapters across the United States. AAZK chapters have been instrumental in the success of the organization's flagship conservation fund-raiser, Bowling for Rhinos, having raised $8.75 million for rhino conservation in Africa and Asia since 1990. AAZK also offers $35,000 annually in member grants.
WThe mission of AAZK is "to advance excellence in the animal keeping profession, foster effective communication beneficial to animal care, support deserving conservation projects, and promote the preservation of our natural resources and animal life." AAZK offers professional development and educational opportunities to wildlife care specialists through its annual national conferences, monthly
publication of the Animal Keeper's Forum, and resources shared through its dedicated SDZWA Academy site.
AAZK has been an SDZWA Academy member since 2012, and has a customized, members-only Academy site: AAZK C.O.R.E.—Center for Online Resource Engagement. AAZK C.O.R.E. offers customized content and resources for members and chapters in the form of interactive courses that offer insight into best practices for cornerstone topics such as fund-raising, officer orientation, and the chapter recharter process. In addition, individual members will find past conference proceedings—including information from workshops, papers and posters, and personal professional resource examples, such as resumes and cover letters.
For more information regarding AAZK and its membership benefits, visit aazk.org and follow AAZK on Facebook and Instagram.
The 47th annual AAZK National Conference will be held in Toronto, scheduled October 13–17, 2022. For more information, visit aazk2022.org.